Katrina Hokule'a Ariel is the only child of two educators who taught her at a very young age to dream big and follow her heart. Her path in life has taken may turns and sometimes convoluted detours, pursuing everything from music and art to motorcycles and snowboarding. Yoga has brought her steadiness and an avenue to expand in so many ways.
Nature has always been Katrina's sanctuary, and some of her best friends are trees, particularly the Live Oaks in New Orleans, and the Redwoods in California. She lives in the mountains of British Columbia, Canada with her beloved, Casey, their two cats, Jasmine and Toby, as well as Riley, the dog.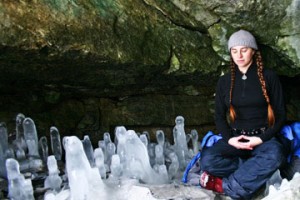 Katrina teaches from the heart, sharing her love of life and joy of creative expression as a contribution of light to the world. She has studied yoga extensively with many wise and skilled teachers, and earned credentials comparable to a Master's Degree in yoga (she was a certified Anusara yoga teacher and currently holds a E-RYT 500 from Yoga Alliance). However, she is of the opinion that yoga is something you can spend lifetimes learning, and that she has merely begun the path of Mastery.
Her vision is to empower and inspire as many people as possible to live fully, in harmony with each other and the earth. Katrina encourages each person to find their own path.
Katrina has also produced a music mantra album which uplifts and calms in its beauty.
Her yoga blog can be found at www.YogaWithKatrina.com.
"Take what calls to your heart and live it." ~ Katrina Ariel
Buy Katrina's music on iTunes: