A "Choose Your Own Adventure" Yoga Book!
This comprehensive, in-depth book on yoga (and much more) is a joy to read!
If you're looking for an authentic, thought provoking resource and guide to yoga, this is it.
---
---
"Truly, this book is extremely well written and so well laid out, I have already learned so much. I absolutely love the section on the Sutras. This is not something that I have studied before, but already through my afternoon I am repeating them, saying the words over and over and loving the way they feel when you say them. I love the way you explain the meanings and how to apply them in your life. "The space between breath" – wow, this is incredible, I love it!! Everything that I have read so far is explained in such a perfect and loving way."
~ Michelle Morrison, Energy Healer, Intuitive, Shamanic Practitioner
"Yoga for Dragon Riders is a transformational ROAR!"

~ Elizabeth Beeds, Publisher of Interior Wellness Magazine

"This book contains a wealth of illustrated, excellent, specific 
suggestions for all who are interested in yoga on and off the mat."

~ Christine Ewy, Author and Educator
---
Inside the book Yoga for Dragon Riders you'll find:
Yoga Asana Practices (plus key poses and alignment)
Yoga Philosophy
Meditations and Visualizations
Pranayama (breathing practices)
Mantra (the power of sound and vibration)
Sacred Texts
Energy and Light Healing Techniques
Channeled Messages 
And much more – all with the theme of becoming a Dragon Rider, which invites you to step fully into your power and purpose, guided by love and wisdom.
---
This book is full of very real ways to access your limitless self.
And to me it's really important that you feel freedom to find your own path. Yoga for Dragon Riders offers many, many practices so that you can choose the ones that are right for you – almost like a choose your own adventure book as you are taken on a journey of nine initiations.
Why initiations? Because the journey of incorporating all of these different ideas and practices into your life takes time and integration, and it's best to layer things so you can learn more quickly and completely. You step over an inner threshold as you begin each practice, coming more fully into balanced power informed by love and wisdom.
---
The Map of Initiations: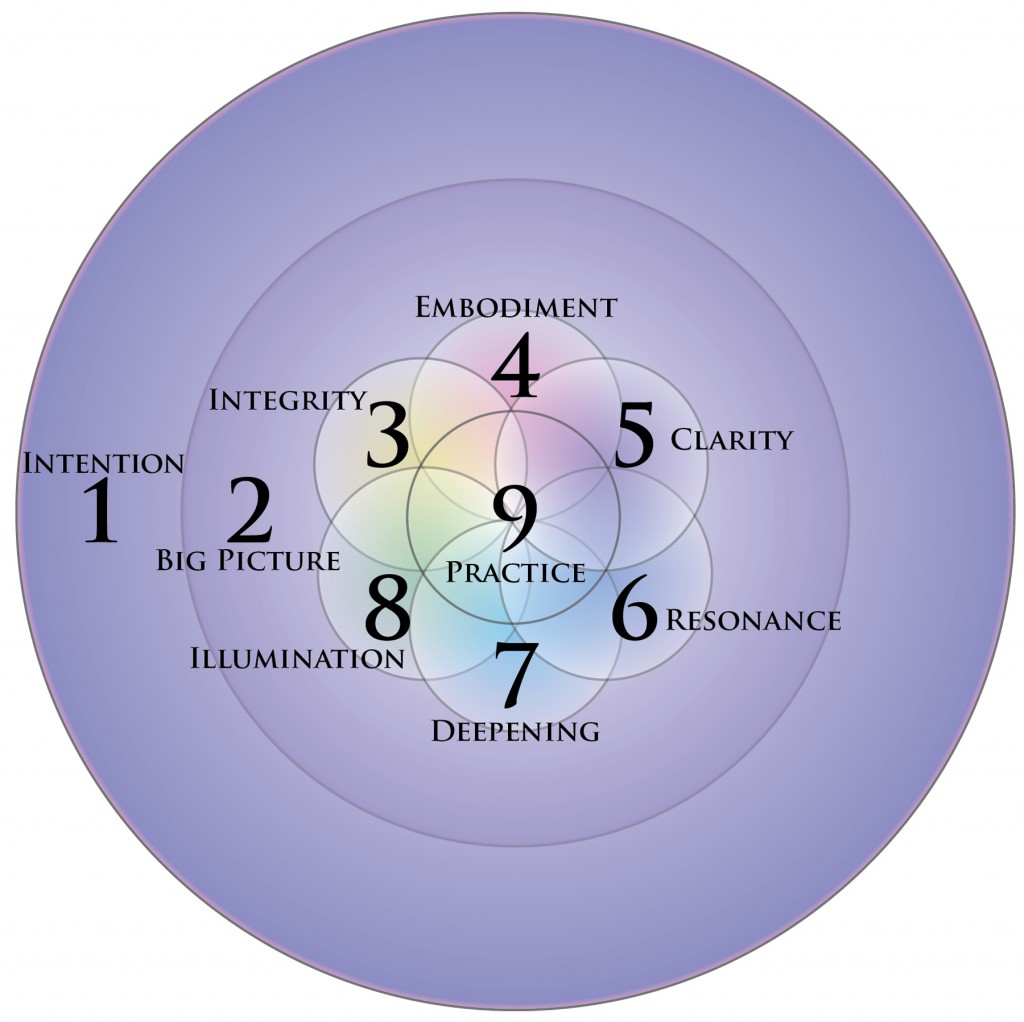 Every good adventure story has a map, or at least a map is a very good thing to have. Rather than mountains and rivers and oceans, this map is an inward spiral and ripple of circles, which symbolizes oneness.
These nine sections of the book are the initiations on the journey of the heart which you are invited to take in Yoga for Dragon Riders.
The First Initiation: Intention. Know Thyself.

The Second Initiation: Big Picture. Soaring High Above.

The Third Initiation: Integrity. Shape Your Character.

The Fourth Initiation: Embodiment. Align, Breathe, Move.

The Fifth Initiation: Clarity. Cultivate Focus and Contentment.

The Sixth Initiation: Resonance. The Power of Vibration, Words, and Mantra.

The Seventh Initiation: Deepening. Weaving Philosophy and Reality Together.

The Eighth Initiation: Illumination! Working with Light and Energy.

The Ninth Initiation: Practice. Continuing the Pursuit of Mastery.
Each segment of learning spirals you closer to the inner circle of knowing and ability, where the practice is integrated more and more as a cohesive whole.
---
This approach to yoga invites you to find your own path and creative expression, guided by
principles and practices that are effective and empowering, playful and profound.
Yoga is the method by which Dragon Riders, or Masters in Training, emerge from where they are hidden, deep within, sleeping beneath the limiting ideas of human habits and conditioning.
Yoga is ancient, with many secrets to be uncovered, and yet it has evolved to become one of the most liberating approaches to live a life filled with meaning—a life where laughter and silence are equally revered.
This particular approach to yoga invites your imagination to swirl and play, informed by many Masters who have passed their knowledge to me, and seen through the lens of my own interpretation of yoga. I also have infused much wisdom from other spiritual explorations, as well as journeys in the Akashic Records and the Library of Life.
---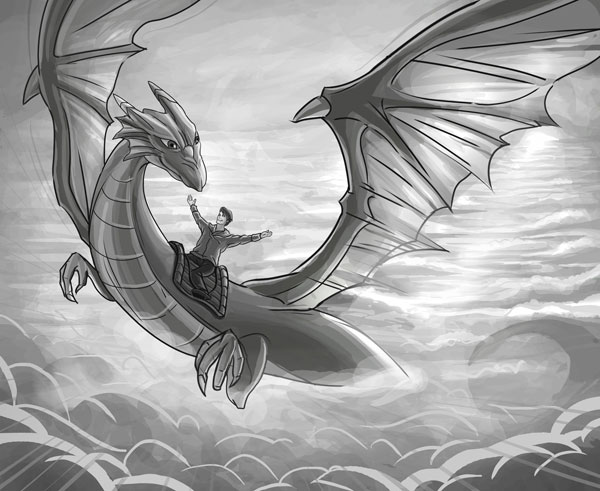 Out beyond ideas of wrongdoing and rightdoing, there is a field. I'll meet you there.
~ Rumi ~
---
From the author, Katrina Hokule'a Ariel:
"I didn't plan to write a book. I was propelled out of bed on the night of a full moon eclipse with a clear message: 'You are going to write a book. It's called Yoga for Dragon Riders. It starts like this…'

What else could I do? I sat down at my computer in the early morning hours and let it come through.

Much of this book is a 'divine download,' meaning I just let it flow through. The rest of it is a collection of the most potent wisdom and practices I have learned in my life-long exploration in yoga, energy healing and other ways to tap into the mysteries of life beyond the limiting ideas that try to hold us back.

It is an offering from the Universe to us all; a call to your heart of hearts."
---
A message from the Dragons:
"We call to the hearts of those who are ready to make a great shift.

At first you perceive our fierceness, as is right. You feel the power and strength, you notice the beauty, grace, and razor sharp precision by which we bring change.

But beneath the many layered defenses and thick skin of protection is a limitless source of love and vast understanding. We are not reptilian as you think of them. We are warm blooded and produce our own heat, and so we are in another category of being all together. The fire comes from the center of the soul, from the source of all things. We know ourselves and our place in the grand design of nature.

Our purpose is to usher in change, to bring great transformation. And we are.

We are the perfect ones to call upon to embrace and claim your power.

If you wish to wield light, and to undergo the transformation from a limited being to a limitless one, we are perfectly designed and positioned to assist.

Yes, we are fierce, but it is this fiery nature that provides the fuel of reforming the world you know into a world of magic, and where all things are possible.

As with all power, your intent is paramount. Yes, the fierceness of dragons has been abused by those who would enslave us and use us for dark deeds of destruction and manipulation. That never ends well.

However, when we bond and work together with ones of great light, with those who serve the highest good and know themselves to be limitless beings of Divine Nature, we are as living fire breathing stars, powerful beyond measure, with great purpose and inspired hearts.

When we bond with beings such as this, such as you, we help you reclaim the aspect of yourself – the part of your soul – that has hidden in the illusions of the human experience of limitation and separation.

We can merge you with your own innate powerful nature, which is your true self and fullness of being.

And once you have reclaimed this part of who you are, together our power is joyfully infinite!

Do you wish to fly to the stars? Do you desire to shift the ways of mankind, tearing down illusions and rebuilding the world in clarity and in a mighty, honest, honorable way?

Do you want to explore dimensions of higher vibration?

Do you need us for these things? No. But we can assist and are perfectly designed and positioned to do so. We can help accomplish more when we work together, especially because the limitations on the human mind and perception are so thick and firmly established.

Like the serpent, we serve the wave of Shakti and the divine purpose of the feminine, yet we do so with the power that has also been claimed by the masculine. We are balanced beings.

And at our hearts, beyond the initial impression of fierce fire and strength, is a joy and love and drive to create peace that is fathomless."
---
The cover is gorgeous, the inside illustrations likewise. (Big thanks to my illustrators, cover by Liiga from Latvia and inside illustrations including the one above by Jerome from the Philippines).
There are also tons of photos in Yoga for Dragon Riders, most of which are by the amazingly talented Kamloops Photographer, Nat Anfield.